Roof Replacement
When damages to your roof are too large for basic repair services, you will eventually be required to replace your entire roof. As a critical structural component of your home, roof replacement is not a repair that should be delayed. Experienced Rockland County roofers will help you clear away old roofing material, change out your old flashings, and lay down the underlayment. Once these measures have been taken, professional roofing contractors can install your new roof.
New Roof Installation
We provide exceptional service, superior workmanship and an unmatched quality. The materials used will always be of the highest standard. What you can expect when working with Infinity is a full roof inspection, recommendations based on your unique roof and it's overall condition as well as a support from our talented team every step of the way. As a GAF Master Elite Certified contactor, you can ensure that Infinity Roofers are licensed, insured, possess a reputation for quality workmanship, and serves as a dependable contractor. Simultaneously, you can ensure that Infinity participates in ongoing professional training, is aware of the best current practices, and knows the essential for installing GAF roofing materials.
Skylight Installation
Skylights are a popular option to bring more natural light into your home. When properly installed, even a small skylight can make a room feel more open, airier, and larger. While skylights are generally intended for asphalt shingle rooftops, experienced professionals can install flashings that additionally support metal or tile roofing. These professionals can help you consider the sunlight's path, the slope of your roof, and the optimal window size to install a skylight perfect for your property.
Solar Panel Installation
Solar panels are undeniably one of the largest trends in the roofing industry over the last decade. Harnessing the power of solar, property owners can reduce electric bills, generate financial returns, and increase their property values. Simultaneously, solar panel installation often leads to US energy independence, sustainability rewards, and avoidance to utility inflation prices. With the help of experienced New York roofing contractors you can install an extremely reliable solar system that meets your property's energy needs.
To learn more about our solar services and speak with a representative, click here to visit us at Infinity Energy.
Comprehensive Roof Inspection
Experienced New York roofing services can provide your property with comprehensive roofing inspection services. Whether you are concerned about excessive moisture, leaks, sub-standard work, or inadequate insulation, expert roofing contractors at Infinity can provide thorough inspection to put your worries at ease. Professional roofers are experienced in identifying issues based on the usage, complexity, design, material, and age of your property's rooftop. Through advanced roofing inspections, you can ensure that your property's structure is safe for a competitive price.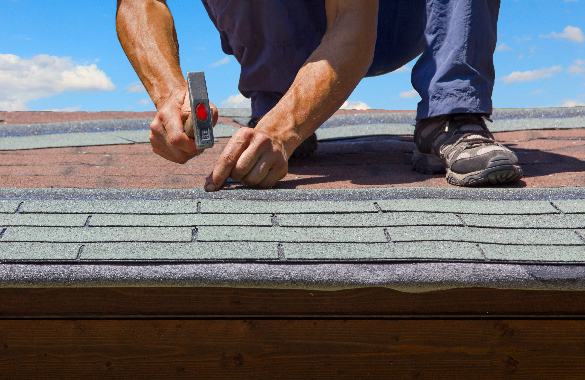 Roof Repair
From minor leaks, holes, and damages, roof repair services can quickly seal your property's rooftop. When these issues arise, it is essential to address them right away in order to avoid interior water damage and mold. If these conditions go unmonitored, roof leakage can damage your insulation, present a fire hazard, and weaken your home's overall structure. With the help of professional roof repair services, you can immediately seal and restore any damaged areas.
Gutters Installation
We install top of the line gutters and drainage systems for our customers. At Infinity, we know the importance of diverting rain water away from your home. Simultaneously, reliable gutters help to avoid flooded basements, protect your siding, preserve landscaping, and control the flow of water. That's why we recommend solutions that fit the needs of your house and property. Don't wait for the next downpour to compromise your home.
Our professional team at Infinity Roofing is always standing by and ready to help you with your upcoming roof project. To get in touch, please click here to contact us.